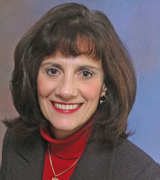 Judy Moses
ABR, CRS, EPRO, GRI, PMN
617.877.8227
JudyMoses@JudyMoses.com
Past National President Women's Council of Realtors
Broker/Owner at:
Pathway Home Realty Group
I feel blessed to love what I do. I feel I was born to help people buy and sell homes. It is my ministry. A solid home is foundational for a sense of well being and success in life. It is where we go to relax, renew our energy and seek shelter from the storm. It is where we break bread with family and friends and shape our children and their future. I feel grateful to each client that I help for allowing me the privilege to be a part of such an important piece of their life. I am grateful that I am a person who is fortunate enough to have found the work she loves and to be able to serve the world in this way.
I have been a Realtor since 1986. I am a native Bostonian. I work in Boston and the western suburbs. I also own a home in RI and have 2 agents who work with our company there.
We represent both buyers and sellers, but never in the same transaction. We dedicate ourselves to the best interests of our clients and never forget our responsibility to them.
I am an independent broker/owner, not affiliated with any major franchise. I feel this country became great and continues to grow as a result of the efforts of small business owners. Also, like politics, all real estate is local, and we are your local experts.
I love to learn and always strive to better myself so I can improve my service to my clients. I have many Realtor designations/advanced education and work my business primarily by referrals from satisfied clients or referrals from my industry peers.
My goal is to help build strong communties by increasing home ownership. In addition, I strive to assist my clients as they grow their wealth and portfolio through the purchase of investment properties and second homes.
Listen to Judy's Interview on the Stu Taylor Radio Show
Designations
Throughout her career, Judy has always made it a priority to go above and beyond the minimum requirements. This sets her apart from the average Realtor and makes her one of a very small number.
In order to better serve you, she has expanded her knowledge base with specialized training. Some of the many programs she has pursued and designations she has earned:
Certified Residential Specialist:
The Certified Residential Specialist (CRS) is the highest Designation awarded to sale associates in the residential sales field. The CRS Designation recognizes professional accomplishments in both experience and education.
Since 1977 the Council of Residential Specialists has been conferring the CRS Designation on agents who meet its stringent requirements. Currently, there are only 39,000 active CRS designees from among 1,251,826 Realtors® (3%).
Accredited Buyer Representative:
The Accredited Buyer Representative (ABR®) designation is the benchmark of excellence in buyer representation. This coveted designation is awarded by the Real Estate BUYER'S AGENT Council (REBAC), an affiliate of the National Association of Realtors®, to real estate practitioners who meet the specified educational and practical experience criteria.
Judy's savior faire in the home buying process will ensure that you negotiate the best purchase terms to suit your needs. In addition, Judy's experience will help guide you through the facets of the transaction culminating in a seamless closing.
Graduate, Realtor Institute:
Buying property is a complex and stressful task. In fact, it's often the biggest single investment you will make in your lifetime. At the same time, real estate transactions have become increasingly complicated.
New technology, laws, procedures and the increasing sophistication of buyers and sellers require real estate practitioners to perform at an ever-increasing level of professionalism.
So it's more important than ever that you work with an agent who has a keen understanding of the real estate business. The GRI program has helped the best and the brightest in the industry achieve that level of understanding.
GRIs are:
Nationally recognized as top performers in the real estate industry
Professionally trained
Knowledgeable
Dedicated to bringing you quality service
A GRI can make a difference
When you see the letters "GRI" after an agent's name, you can count on receiving the knowledge and guidance you need to make your transaction go smoothly. In short, you can count on getting the best service available from a real estate professional. Don't you deserve the best?
Performance Management Network:
The PMN designation demonstrates a Realtor® who is committed to ongoing education and professional excellence and has a powerful network of business connections.
Senior Real Estate Specialist:
This education-based designation provides a Realtor® with the tools to support clients over 50 years of age with their real estate decisions.
e-pro:
The e-pro internet professional belongs to a special community of highly skilled and continuously trained real estate professionals who collaborate online.